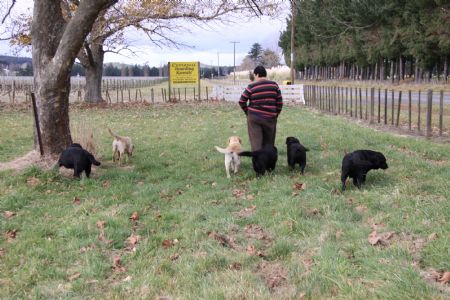 We are one of the oldest most established breeding kennels in New Zealand. We bred our first litter in 1974 and have been breeding Pedigree Labrador puppies under the kennel name of Dana ever since.

We are proud of our record and have families coming back to us for their third Labrador, or children that grew up with a Labrador from us as their family pet coming to us for their children's family dog.

We have always bred for soundness, temperament and type, using the best bloodlines available from New Zealand and Abroad.

Dana Labradors have proven themselves in all aspects of kiwi life, kiwi recovery, guide dogs, drug dogs, shooting companions and of course the much loved family pet.

The Welsh Springer Spaniels are and have been an integral part of Dana Kennels for over thirty years. They are a lovely breed and fit in very well with the Labradors. They are great little hunters and very loving. Always a lovely red and white colour. They are very loyal but rather wilful. Can attach themselves to one member of the family as their number one, but still love all the family.

Our puppies are very well socialized before going to their new home and are given the best start in life that we can give, including using premium foods in those crucial early days of weaning. Puppies are often available to approved homes.

All Breeding stock are hip and elbow scored and eyes checked on an annual basis.

Welcome to my web page.
Contact Details
Martin& Coralee Catley
Hastings, NEW ZEALAND
Phone : 068743814
Email :
[email protected]
125140 Visitors